The Town of Troy is a rural township, located in South Central Sauk County, Wiscon-sin. As of the 2010 census, 794 people resided in the township with 336 households in 53.1 square miles.
Website Disclaimer
This is the official website of the Town of Troy, Sauk County, WI. The information con-tained in the Town of Troy Website is provid-ed as a public service to the citizens of the Town of Troy and to the Internet Community.

The contents of this website are subject to periodic change. Information presented on the Town of Troy Website is not intended to re-place official sources.

Every attempt will be made to assure that information is accurate and timely, however information is presented as is without warranty.

The Town of Troy Website should not be mistaken for legal advice. Information contained herein should not be considered error-free and
should not be used as the exclusive basis for decision making.

Use of Website information is strictly volun-tary and at the user's sole risk.
Town of Troy News
New Recycling Guidelines Effective Jan. 1st, 2015, The Town of Troy has contracted with a new recyling company. The new recycling company is Town and Country Sanitation. This means there will be new pickup times. For com-plete info, click: Print Recycle Form Town of Troy.
Policy Change Plan Commission agenda requests must be submitted to the commission chairman or secretary by 6:00 p.m. on the 3rd Thursday of the month.
Town Board agenda request must be submitted to the board chairman or clerk by 6:00 p.m. on the 1st Thursday of the month.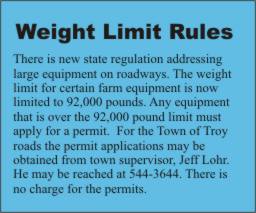 Town Board Minutes 01/12/16 Town Board Agenda 02/09/16 Town Board Minutes 12/08/15 Notice of Special Meeting 02/05/16 Notice Absentee Ballot 01/08/16 Town Board Agenda 01/12/16 Town Board Minutes 11/17/15 Town Board Minutes 11/10/15 Town Board Notice 12/09/15 (No-Metallic Minining Ordinance ) TownBoard Agenda 12/08/15 Notice of Combined Meeting 11/30/15 Town Board Minutes 10/13/15 Notice of Hearing Non-Metallic Mining Ordinance 12/08/15)
Useful Web Links
Sauk County Government
Sauk County Property & Land Use (ALRS) Sauk County On line Mapping Tax Assessments
_______________________________ Town Plan Commission The Town of Troy Planning Commission meets on the 4th Monday of each month to discuss building permits, easement issues, certified survey maps and a host of other issues relating to land use in the Town of Troy. Plan Commission Members
Chairman: Brian Hanson Secretary: Andrea Porubsky Member: Doug Larsen Member: Peter Maestri Board Member: Jeff Lohr
Building Permit Process Generally, the first call in getting a permit is to the Planning Commission Chairman. For a printout of the Permit Process, click permits.
Plan Commission Chairman - Brian Hanson (608) 544-5000
Building Inspector - Peter Giese Cell (608) 697-777 Home (608) 727-3799. Plan Commission Agenda 12/28/15 Planning Commission Agenda 11/23/15 Proposed Non-Metallic Mining Ordinance Plan Commission Minutes 09/28/15 Plan Commission Agenda 10/26/15 Plan Commission Minutes 08/2415 Plan Commission Agenda 09/28/15 Plan Commission Minutes 07/27/15 Plan Commission Agenda 08/24/15